Silk Flames Postcards of WW1
Keyword search: Flame, Flames, silk, woven silk, postcard, postcards, post card, E Defferene, Jacquard loom, Belgium, France
Now including ALL 66 of the Silk Flames postcards as either scans or photographs! The only site that has them all...
I have created this web-site to share my passion for a series of postcards from WWI. The woven silk postcards were created by the French company of E. Deffrene who were working from 77 rue Monmatre in Paris.
They were first produced in 1914 through to 1918. They are part of the 66 Flames series that were designed and produced to be sold to the allies during World War 1.
Each of them had Flames as their theme, either as a background or as the focus of the building (usually a church or cathedral) being bombarded. These were in either France or Belgium.
In May 2010 I visited each of the 66 sites and photographed or tried to, the view that the postcard was depicting. My aim was to produce a book, I believe that this had never been accomplished before; with this quest, I was successful.
Any serious collector of the Flames series should include this book as a must have; you to could follow in my footsteps through France and Belgium...
Though not a sales pitch I have included links to purchase my book if you are so interested... (The Book has now sold in Australia, France, Switzerland, UK, USA and Tasmania! - Now adding New Zealand!)
A recent purchaser (Deputy curator of the National Silk Art Museum USA) had this to say.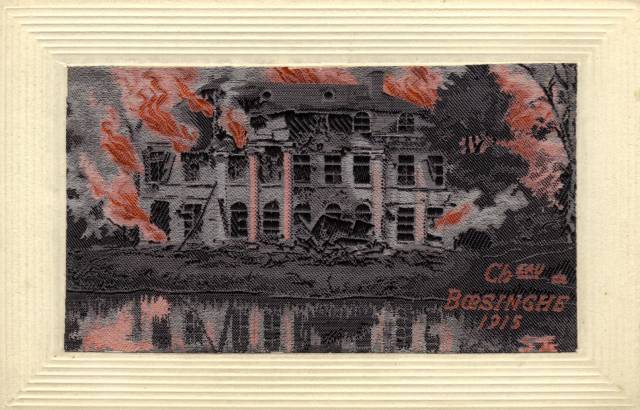 "An unbelievable book that will be a great addition to our library..."
To continue on into the site Click on the silk Flames on the right... AND enjoy.
You can purchase eBooks from Apple Sterling 1.49 or States $2.49 (please copy and paste link to browser), or buy a Hard copy from Blurb. Blurb link below to preview. http://itunes.apple.com/gb/book/id935025111